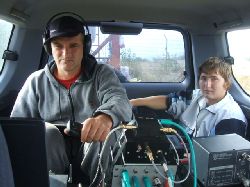 Dime (Z35Z) & Igor (Z32ID)
We finished the September IARU Region I contest with our new QSO record (160). Unfortunately, we didn't have time to tune the 2nd antenna group, so we run the contest with only 4x6 el. YAGI. Due to unexpected rain, we could finish installation at 16:30 UTC (18:30 local time), so we lost 2.5 hours.
CallSign : Z38R
Contest : IARU Region I - September
Date : 2007/09/01
QTH : Peren
WW Locator : KN12AG
A.S.L. : 1326 m
Band : 144 MHz
Category : Multi op
LOG : Atalanta Locator ver. 12.19
Valid QSO : 160
Sum of pts.: 73 390
ODX : I3MEK in JN55SJ at 910 km
Nr of DXCC : 15 (Contest program needs to be updated with 4O)
We noticed signals in every 20kHz of a YT and a 4N station, but it didn't cause any problem for us.
Several station confirmed our clean signal. Only 1 YU station complained, but most probably its set up could not handle large signals (RX side problem).
We received feedback, that we couldn't hear several OM, OK station. We shall check next time the impact of Cosmofon tower in 340 degree. Maybe the 2nd antenna group or new location shall solve this problem.
Zoli, HA1CA-Z38C