Donation hand over to Stip club station (Z37M)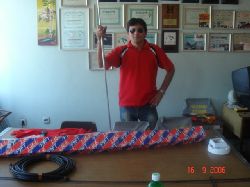 Z35X with F9FT yagi
HA1CA handed over F9FT antenna for 6m band, as donation of Anico Kft. (Hungary), for Stip radio amateur club.
The antenna was provided for the Z38R VHF/UHF expedition (Peren, KN12AG).
We hope that Z37M and other amateurs from Stip will be able to increase the Z3 activity for 6m with it.
HA1RS/Z38R (Laci)
HA1CA/Z38C (Zoli)